DTP Automation: Choosing a platform
DTP Automation is finally here. Do you still remember the time when you were manually creating folders and sending Excel sheets back and forth with product information? Repeating the process again if a version has to be drawn up for abroad? Or are you still doing this? Read on to see how you can easily automate this process.
---
At some point the time will come when you need to streamline these processes. By organising your PIM, DAM, design automation and folder process within a single automated platform you will quickly achieve higher efficiency. This will also save headaches in addition to costs.
DTP Automation - Overwhelming choice
Once you have decided to make this investment a platform has to be chosen. There are now many providers to choose from, each with their own strengths and weaknesses.
There are the Bynder and Capital ID platforms developed in the Netherlands: DAM solutions with a strong focus on branding and digital marketing. Woodwing also offers a DAM system, but this company provides as a combination of different programs. The American Emsoftware mainly focuses on synchronising documents and files between different external programs. And Pagination mainly keeps it at DTP automation.
How do you as a Retailer, choose the right package now? And what if you do not want to choose between these specialisations? Then the Relayter platform might be just right for you. You do not have to choose a focus here, because this platform integrates the whole process from A to Z without losing simplicity and ease of use.
The great advantage of Relayter is a so-called API-first approach. This works from the core functionality, and the API can be seamlessly integrated into existing PIM or DAM systems.
The benefits of Relayter DTP Automation
Relayter was first developed by Creative Media Network as an in-house, Omnichannel DTP Automation solution for its own customers. It quickly became so efficient and versatile that they've decided to further develop the platform for even broader application.
The platform combines all facets of the advertising process for a completely streamlined workflow, allowing you work efficiently from PIM and DAM to Online Marketing or offline POS material.
The great advantage of Relayter is a so-called API-first approach. This works from the core functionality, and the API can be seamlessly integrated into existing PIM or DAM systems.
From briefing to DTP and localisation
In addition, the extensive A-to-Z functionality makes it possible to manage the marketing process from briefing to DTP and localisation. Here's what Relayter does for you:
Management of Campaigns and Briefings

Management of Workflows and Tasks

Digital Asset Management

Management of Product and Price information

Templates & Automated Content Creation

Channel and Regional management

DTP Automation
Scalable Solution
And everything is scalable. Because Relayter works with a rate system where per user, per month is paid. So no major investment needs to be made, and the platform simply grows with your company. Or if necessary you can take a step back and scale users down.
An additional advantage: there is a considerable improvement in the transparency of management information. Processes and workflows are not only streamlined but can also be better monitored. More insight creates more possibilities for effective adjustments.
Strong basis, unique starting point
Although Relayter proves itself as all-round talent and a very talented design automation platform, it is especially interesting to see how the SaaS platform excels in its basic function, because this is what makes Relayter really unique. No matter how much the world is digitising, this platform continues to give high priority to analogue expressions such as folders and POS material. While the digital management functions naturally ensure that online concepts can be integrated and implemented.
This is what makes Relayter strong: a truly Omnichannel Solution for online and offline advertising. In other words, everything a modern retailer needs on one combined platform. Curious how one platform the rule them all works? Give it a try here.
---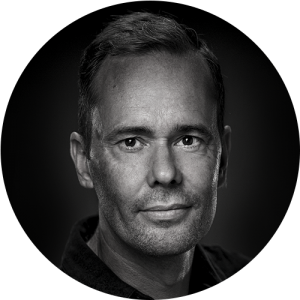 Mike has many years of experience in customer support within the retail agency industry. Working for various companies and roles that later formed the CMN Group. He has a broad knowledge of DTP processes on a large scale. Having worked with a wide range of database publishing solutions, he knows exactly where the challenges lie to make sure we help our retail customers succeed in their marketing productions.