DAM: What is Digital Asset Management software 
Digital Asset Management software (commonly referred to as DAM software

), helps businesses manage their digital media assets in an organized, secure and easy-to-retrieve manner. These type of solutions are often used in combination with Relayter and ERP systems to create a solid data foundation within an enterprise and/or retail IT landscape.
---
Examples of digital media assets can include:
Photos

Images 

Videos

Animations

Design Files

Illustrations


Audio files

Documents

Presentations

Ebooks

Other such multimedia content
DAM software enables enterprise/businesses to store, manage and distribute large volumes of digital media assets efficiently during the entire marketing production process.
What Types of Business Can Benefit From Digital Asset Management Software?
Companies and businesses of all sizes and industry have begun adopting digital asset management (DAM) solutions to simplify their marketing needs. Especially in Retail this is an uprising trend. However, bigger companies (enterprise) who produce and manage larger volumes of creative assets for omnichannel marketing purposes are the organizations who can benefit the most from utilizing DAM software.

Users that benefit from Digital Asset Management
These are typical users and teams within a company that will access and use DAM software on a regular basis; with a wide range of access levels and capabilities.
Creative Teams
Photographers and graphics designers will use DAM software to access existing digital assets as well as upload new assets (and updated versions of assets) into the DAM database. Creative teams are also most likely to use the integration feature with other creative design tools like Adobe® InDesign, Photoshop, Illustrator, or Premiere Pro.
Marketing and Promotions
Marketing teams, omnichannel professionals and product management staff will typically need to access the DAM software on a regular basis for the creation and storage of all types of marketing materials, including weekly ad folders, monthly product brochures and magazines, digital content for websites and social media marketing, daily product banners or regularly changing POS advertising material, etc.
Sales Department
The sales team will sometimes need access to approved assets so they can utilize the most relevant marketing materials for sales presentations, sales pitches, additional information for prospects/leads, etc.
Packaging Department
Packaging departments will access the DAM portal as a repository to store their packaging assets and to make any necessary updates regarding packaging labels.
IT Department
IT professionals make sure the right data is involved in the safe integration of the Digital Asset Management Software with other operating systems. They may also be appointed as DAM managers, metadata managers or archivists that are responsible for configuring the DAM software and making sure assets are ingested with the right information.
Legal
Legal teams can sometimes be responsible for attaching expiration dates to digital assets, so assets aren't used without the proper rights. Legal departments can utilize DAM software to identify which users may have downloaded content/files they shouldn't have access to.
Companies and businesses of all sizes and industry have begun adopting digital asset management (DAM) solutions to simplify their retail marketing needs.
External Users of DAM (outside of Company):
These are users or teams outside of a company that regularly need access to digital assets utilizing DAM Software.
Agencies, Distributors, Sub-contractors or Other Parties
Other parties who work with your company on tasks such as creative, design, marketing, packaging, distribution, etc. Can utilize DAM software to access company logos, brand guidelines, images and other digital assets to be used as part of current marketing and promotional campaigns. These outside entities can also utilize DAM software to upload any newly created digital assets for approval.
What Are The Main Advantages Of Using DAM Software?
Some of the major advantages of utilizing digital asset management solutions, include:
Ability to gain access to the right digital assets when you need them.
Enables companies to use and repurpose digital assets easily — which extends the life-cycle of digital assets and provides increased ROI (return on investment) on all production costs for creating new digital assets (i.e. costs for professional photography, graphic design, etc.)
Controls access and permissions to access all digital assets, so only approved versions of marketing material are being used by the right people (reduces misuse of assets).
Gives different departments involved in the marketing production process the ability to collaborate more effectively.
Allows companies and brands to maintain brand consistency across all marketing channels.
Provides precise analytical reporting of digital assets (with graphs and charts).
Seamless integration into current or existing marketing campaigns.
Easily collaborate and provide specific content to external partners, agencies, departments or sub-contractors assisting you with marketing production activities.
Integrate digital asset information from other technologies and sources (ERP, PIM, DAM, or CSV Files) and manage all data in one convenient platform.
Control licensing and usage rights for digital assets during marketing production.
Increase work-flow efficiency and execution speed for all marketing campaigns.
Allows campaign mangers the ability to understand exactly where projects are in terms of processes and progress.
Communicate with all marketing production team members easily (and in real-time) to provide faster feedback, reviews and approval on all marketing production tasks.
Automated Design & DAM

Easily integrate DAM data into your automated retail promotions production workflow.
Relayter integrates with any DAM solution
Relayter is build up from the ground with an API first architecture. This means that all functions of the platform are usable via our API, and thus also integrate via the API. This gives our customers full flexibility to integrate with any kind of software solution.
It also provides full control over data and where your data "source of truth" should be. One of the common uses we see today is that a lot of retailers that use Relayter, integrate it with their DAM and PIM to have a painless transition of product data and assets into their marketing production workflow.
Start saving time with Automated Design & DAM
Relayter is a leading SaaS (Software as a Service) provider of PIM, DAM, Database Publishing, Automated Design and Proofing Workflow management within large marketing productions. It is recognized as an established provider of enterprise-class software solutions in the retail marketing industry.
Request a FREE DEMO from one of our Design Automation & Workflow experts to discover why so many companies are already using Relayter to optimize their marketing production process.
Get a free demo
---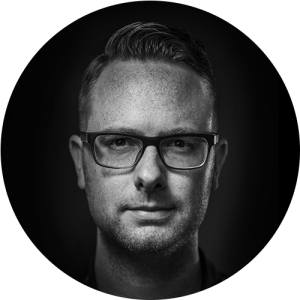 Edward started out in online marketing but soon found his passion in entrepreneurship. He successfully founded multiple tech startups and merged mediaBunker into what is now known as CMN Group. He then co-founded CMN spinoff company Relayter to solve the complex issues that come with retail marketing productions. Going from large datasets to automatic layout design. His mission is to redefine and simplify how retailers operate their marketing process.