Retail marketing trend: Web to Print
Web-to-print has firmly established itself in promotional marketing, and companies that distribute print materials cannot ignore it. Efficient ways of preparing print materials are constantly evolving, providing new opportunities for small and large companies to streamline their marketing production processes.
---
Web-to-print, also known as 'remote publishing' or 'database publishing' , is a collective name for online tools used for printing. This ranges from the preparation and layout, to delivery and ordering. The term is sometimes confused with DTP. The difference is that DTP focuses exclusively on design and is not necessarily set up online. Whereas with web-to-print, the final print order is also managed and sent via the portal.
The tools are varied; from copy shops that offer an interface in which customers can prepare and order their print jobs, to extensive platforms on which large enterprise companies collaborate with different parties on campaigns.
The emergence of new technologies
You could say that sending a print order via e-mail was a precursor to W2P. Over the years, e-mail solutions have grown into extensive platforms for consistent printing. The ever increasing possibilities in the field of design, in combination with streamlined processes, ensure that even large or complex organizations with web-to-print can evolve their own design agency. In the current economic landscape price and cost are most important. Optimal use of technology and automation offers a cost solution, because it allows an increasing number of processes to take place in-house, and less outsourcing means lower costs. Provided of course, that this is carried out well with reliable tools.
Applications: from corporate collateral to in-store promotions
Web-to-print solutions can be used for various printwork. For example, available tools include templates for business cards, folders, and letters in corporate style, or extensive catalogs. Being able to combine flexible content with fixed design, enables printing in a consistently implemented style with a few mouse clicks.
Within larger companies, parts of a catalog can also be filled in by the head office, while the various branches can add their own offers such as flyers, leaflets and POS material. A person with final responsibility (for example the central communication department), can be appointed to check and approve the printed material before the job is released for the printer.
Like all modern marketing technologies,
web-to-print is also constantly evolving.
Benefits of Web to Print for Retail promotions
Preparing printwork via web-to-print tools can offer retail companies a number of benefits. Firstly, by using versatile templates it guarantees a consistent corporate identity for all printed materials. In addition to saving time and money, many companies experience the advantage of being in charge of their own design: everything stays under their control.
Small entrepreneurs benefit from the fact that no external design agency has to be involved once the templates and corporate identity have been created and set up. Medium-sized and also large, even international companies, benefit from the streamlined processes, as files can easily be shared between the various departments involved.
At a glance this means:
Consistent printing
Streamlining internal processes
Cost savings through in-house creation
User-friendly tools
Tighter turn around times
Better insight into the proofing workflow
Remain in control
Collaborate and share files
Insight into orders
Web to Print in the future
Like all modern marketing technologies, web-to-print is also constantly evolving. In particular, the 'P' of print is a point of discussion. Seamless integration of printed communication in campaigns that also take place digitally, is a priority. However, more extensive functionality means that we can also look beyond print.
Mobile-first plays an important role in new developments. It is not only the public that has to be reached by mobile over different channels. Employees are also constantly on the move, and must be able to manage mobile campaigns and printed materials remotely, and easily.
It is to be expected that web-to-print platforms can increasingly offer links to other systems. Consider, for example, the integration of PIM or DAM systems. 
Security
We are also seeing many developments in the area of security. As a result of GDPR / AVG coming into force in 2018, more attention is being paid to the secure management and transmission of digital data. So also between systems and companies where Web-to-print platforms play an important role in the secure transfer of data to the printing company, ensuring the process is better secured, and more efficient.
---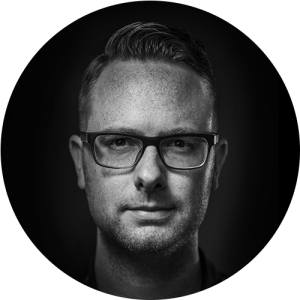 Edward started out in online marketing but soon found his passion in entrepreneurship. He successfully founded multiple tech startups and merged mediaBunker into what is now known as CMN Group. He then co-founded CMN spinoff company Relayter to solve the complex issues that come with retail marketing productions. Going from large datasets to automatic layout design. His mission is to redefine and simplify how retailers operate their marketing process.